Known as the 'Adventure Capital of India', Rishikesh is an ancient pilgrimage centre surrounded by lush forests and low-rise hills. In addition to offering best locations for experiencing a wide variety of adventure sports, Rishikesh is home to breath-taking and scenic ghats, bridges, temples and ashrams.
LAXMAN JHULA AND RAM JHULA
(Approx 20 minutes from Rishikesh)
The glorious Laxman Jhula and Ram Jhula also known as the Twin Jhulas in Rishikesh are 450 feet long, iron suspended bridges right above the Holy River Ganga. Located at a distance of 4 kms from Rishikesh railway station, these architectural marvels make for a beautiful tourist hub, all year round. Depicting the essence of values in our life as well as standing high in times of distress, the existence of both Laxman Jhula and Ram Jhula are backed with a great history.
TRIVENI GHAT
(10 minutes from Rishikesh)
Recognized for the famous Ganga Aarti or Maha Aarti, Triveni Ghat is one of the most sought after destinations in Haridwar. The place witnesses the merging of three holy Rivers of India namely, Ganga, Yamuna and Sarawati and thus it attracts a large tourist base from all across the world. During the evening aarti, the beauty of the floating lamps will mesmerize you; as you soak into spirituality and the fascinating aura of the Triveni Ghat.
SWARG ASHRAM
(32 minutes from Rishikesh)
The Swarg Ashram is amongst the oldest ashrams of India, which was built in remembrance of Swami Vishudhanand who was known as Kali Kamli Wala. Visiting this ashram will want you to sit calmly and meditate, while the sun sets amidst the natural beauty of the city. Located at Gangapar, Ram Jhula, tourists can be a part of several religious activities: meditation, aarti, chanting, etc in Swarg Ashram.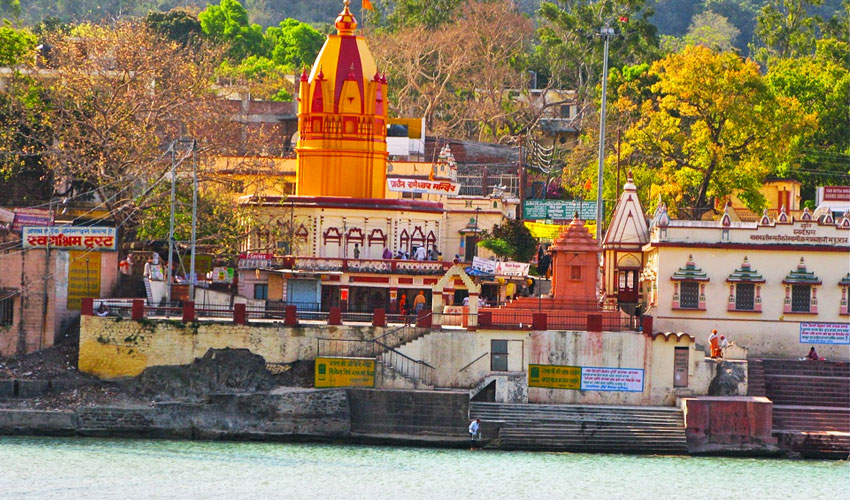 NEELKANTH MAHADEV TEMPLE
(1 hour 20 minutes from Rishikesh)
This sacred abode of Lord Shiva is situated at a distance of 12 kms from Rishikesh, at a height of 1670 metres amidst the sylvan forest. The temple is one of the most sacred shrines of Shiva and is flocked by visitors and devotees in large numbers. The tomb depicting the saga of Samudra Manthan and the freshwater spring in the temple is key attractions.
SHIVPURI
Located on the banks of the Holy Ganga, Shivpuri lies at a distance of 19 kms from Rishikesh. Being serene, secluded and scenic, Shivpuri offers a wide range of adventure sports and activities such as rafting, trekking and boating. Once at Shivpuri, one must experience overnight jungle camping, visiting Sakhya Sagar Lake and touring the Karera Bird Sanctuary.